Consider the following facts about Business Strategy:
Most organizations don't differentiate between 'Goals' & 'Strategies'. They are interchangeably used

While 80% of organizations have 3 year 'Goals' they hardly have any defined strategy!

80 % of all organizations which have a well-defined strategies, fail to execute them well

Less than 5 % of employees understand an organization's business strategy

Only senior management staff's incentives are linked to business strategy

More than half of organizations don't synchronize their business strategy to budget
Source: Large Research Organizations & Consulting firms such as Wharton, Renaissance Consulting, etc
Large enterprises are no way better than the smaller ones. In fact, most large enterprises have a well-crafted business strategy, but they fail in Execution!
Our Approach
We focus equally on 3 important facets that determine the success of any organization's strategic plan – Innovation, Strategic Plan Creation & Strategy Execution. Thus we stay engaged throughout the year and facilitate seamless execution of strategy rather than submit a strategic document and leave the execution to you.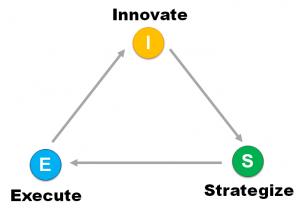 How is our approach built?
Our approach is built based on the practical experience of working with Blue Ocean Strategy, Hoshin Kanri, Innovation Model of Gary Hamel, Balance Scorecard, Visual Thinking & Art of War. While each approach has its strengths and weaknesses, our approach leverages the best from all of them.
How can we help you?
Innovate
Innovation is not always about product development. For your product/service to be commercially successful, there are several factors such as your market boundaries, industry type,  buyer personas, emotional-functional orientation of your product.
In this step, we'll help you to maximize the opportunity for your product/service by:
Challenging the existing paradigms of business boundaries & industry type
Understanding buyers personas and the chain of decision making
Widen your reach including your non-customers
Create a new emotional-functional balance for your product/service
Strategize
The highlight of this step is to define 3-5 breakthrough strategies to achieving critical goals of the organization/function. It starts with definngi the goals and ownership.
In this step, we'll help you to craft a strategic plan (organizational/functional) and deploy it:
Visualization techniques for goal setting
Map of Discontinuities in markets
Soul searching to determine organizational Core Competencies
3 year goal setting
Formulation of Breakthrough strategies
Catch ball method to agree on ownership, metrics & targets
Creation of Hoshin Kanri 'X Matrix'
Deployment of X Matrix to functional levels across the organization
Execute
Link organization strategic plan to downstream unit level strategic plan
Integrate strategic plan to performance management plan of individual employees
Integrate strategic plan with budgetary planning process
Establish priority list of projects/initiatives
Establish monthly and quarterly strategic reviews with leadership
Coach strategy owners 1-o-1 to overcome roadblocks and challenges
How do we engage?
Business Strategies are dynamic and need constant review. It wouldn't just be possible for an external consultant to facilitate business strategies in few days workshop that delivers result.
We steward on your behalf. In simple words, we provide collaborative leadership for strategy deployment. It is not about offering our suggestions and leaving the execution to you or just executing your suggestions. It's about taking ownership & self-interest, understanding the business model & its dynamics, establishing peer relationship with leadership team, critiquing, contributing ideas, maintaining a good balance of general leadership and specific skills. Above all, we bring an external perspective and are not bound by office distractions.
In a nutshell, being trusted adviser and lieutenant of Chief Executive to deploy business strategy.
What have we done?
These are just few examples of Neil's experience. They highlight specific interventions, not the full range of work over the years.
Expand the Opportunity space by including non-customers
For an Engineering firm, we have helped them identify their 3 tiers of non-customers. By doing so, the organization was able to expand and reach out larger base. This directly created a positive impact on their revenues, further reduced their marketing expenses. Now the marketing cost per lead has reduced.
Deploy Strategic Planning Process using Hoshin Kanri
For an IT & Engineering Consulting organization, Neil has helped in facilitating the strategic planning process which covers setting goals, evolving strategies, identifying strategic initiatives, prioritizing and establishing scope for the initiatives, integrating the budgetary planning process with strategic planning, coaching the strategic initiative leaders, institutionalizing the monthly & quarterly review process of strategic plans.
The engagement model was to engage with the leadership team and take them to a level where they will be able to manage the strategic deployment on their own in the subsequent years.
Duration: 8 Months
Deploy Hoshin Kanri



For a Bank's Global Development Center, Neil managed org level annual planning through Hoshin Kanri methodology. Hoshin Kanri is a Japanese policy deployment method that links organization vision & mission to strategy, business goals, tactical plans & individual performance measures. It's the pace setter for executing the organization's strategy. Deployment covered extensive 1-o-1 sessions with top leadership to agree on goals, resolution of ownership overlapping goals, orientation workshops for managers and collaborate with HR to tie individual performance measures.
Duration : 6 months
Execute Operations Strategy



For a Bank, under Neil's stewardship the leadership team derived org level mission, vision and strategy map based on SWOT analysis, market and enterprise strategy. Neil's role was to guide the group during pre-work and facilitate the workshop, resolve disagreements and reach agreements on common goals & execution plan.
Duration :  3 months
Prioritize & Monitor Projects to Business Strategy



Identifying projects isn't usually difficult. But prioritizing them is certainly very difficult. Especially a highly charged up and enthusiastic team wants to do everything. Prioritizing strategic projects isn't about voting the projects. It involves active one-on-one engagement with the stakeholders, getting them on same plane and doing enough homework on what has been past track record before prioritizing. We have prioritized strategic projects for large IT firms
Integrate Measures of Success (Lead & Lag) across the Organization



For an automobile manufacturer, Neil facilitated the engagement of defining the key business attributes, their desired outcomes, lag measures and lead measures. The entire Metrics Value Tree, established a strong linkage across the length and breadth of the organization being cross functional in nature. This could help break functional-silos.
Further strategic business projects were linked to Metrics Value Tree, thus providing focus to project leaders on which lead measures needs to be improved to show results on lag measures of success.
Read more about our Business Transformation Engagements here