Is TQM relevant in the age of Artificial Intelligence & Industry 4.0?
Digital Transformation, Artificial Intelligence, Industry 4.0, IoT, RPA, etc are some of the buzz words that are bringing shivers in the spine of many executives. To be fair, actually many are excited about the future and the opportunities that these tools and methods present.
One side of the coin
A few months ago, in a conversation with the Head of Business Excellence of a MNC in manufacturing sector where TQM & other similar practices are deeply rooted, he said that this year their focus is Industry 4.0 and there are no budgets for any other initiative. He said that TQM, Lean Six Sigma, etc are concepts that are gone past their half life and in this new age, everything will be automated sooner or later. So no Kaizens will be needed, no Six Sigma DMIAC projects will be needed and so is Value Stream Mapping. And as automated processes are highly efficient, there will be no need for improvement projects. He had a point. Instead of dismissing the idea or accepting, it is good to consider how to navigate through these new age developments.
Now the other side of the coin
Another friend of mine who steers strategy and business development for a global digital transformation solutions provideracross sectors recently reached out to me. The quest was to find ways to help their clients to speed up the adoption of digital technologies and reduce internal resistance. He said the problem was to do with their culture. Here is a quick summary of what transpired:
Internal acceptance and adoption is slow for digital transformation technologies and expected ROI remains an aspiration
Digital Transformation is a journey and not a 'fix it and forget it' model. In reality, it is a continuum of iterative improvements leading to big transformation
A successful Digital Transformation should devote 80% effort in people behavior change and only 20% in technology change
To sustain Digital gains, every employee should wear the hat of improvement specialist such as a Six Sigma Black Belt.
If every competitor of yours uses the same technology, you would have no definitive advantage. Ultimately what to differentiate and how to differentiate will come from your employees and technology will only be an enabler
There is no substitute to employee engagement and involvement
So, there is no doubt that new Digital technologies will put you in a new orbit, but soon that orbit will become a slow lane. In the '90s, ERP wave swept the industry, then it was CRM, and then BI, and then Cloud, and then Big Data, and now it is AI, Robotics & IoT.
So ultimately these technology tools enable business but nothing can beat an organization that has the following competencies ingrained in their culture:
Leaders are grounded and their priorities are clear
Everyone has a quest to challenge status quo and improve the way they work
Employees treat and participate like one does in a family
Business models are built around Customers and not Technology
Decisions are factual & inclusive
Whether you call it Agile, DevOps, Six Sigma, Lean, TQM or BE, these frameworks rely on the same fundamental principles mentioned above.
So, to sum up TQM or any such Business Excellence frameworks are enablers for Digital Transformation and cannot be replaced by AI, IoT, Industry 4.0
After few months, when we talked again, he said they are strategizing on Industry 4.0 and not started any real work.
We have created an assessment to evaluate the Digital Transformation Culture of an organization. There are 3 broad areas –
Leadership Aspiration Index – What leaders are aspiring vs reality
Management Practices Index – What management practices are needed vs reality
People Perception Index – What people think vs reality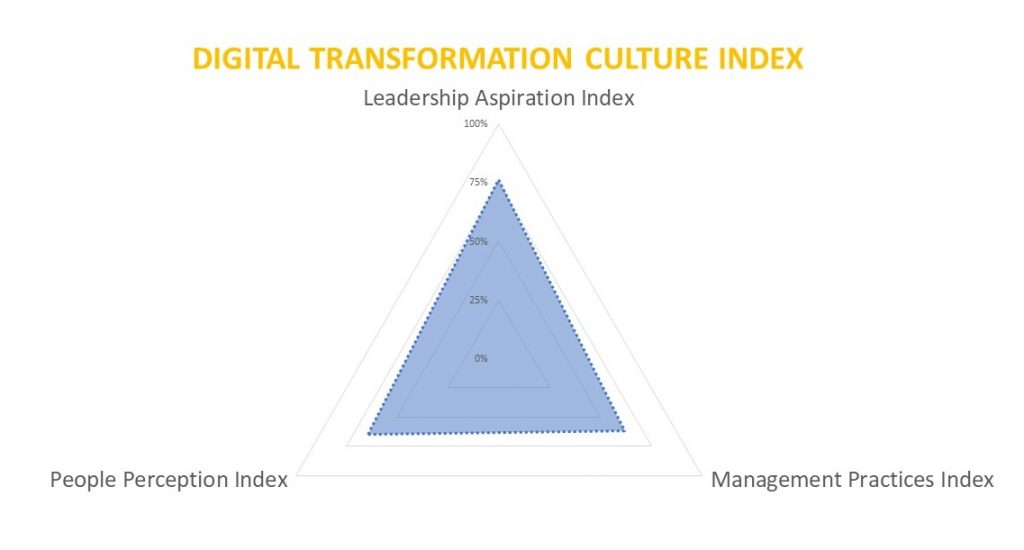 Gap assessment will be in the following manner: